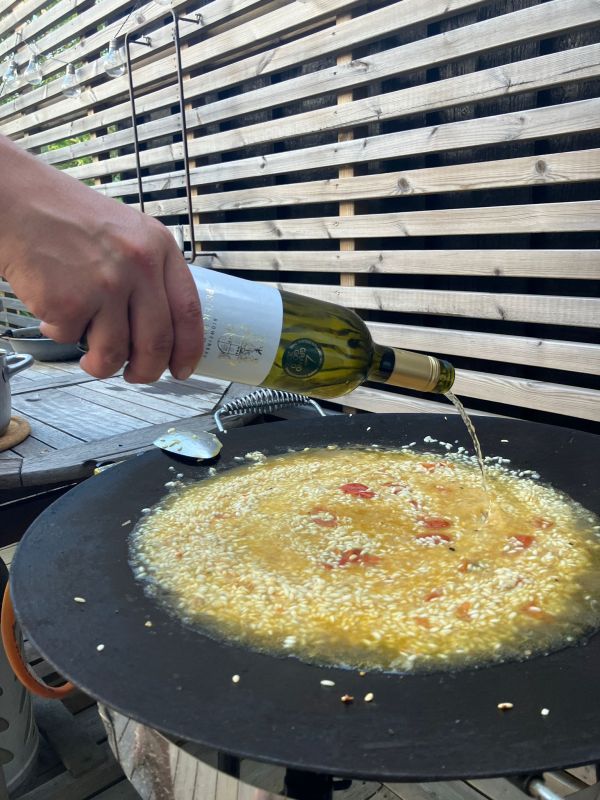 Risotto with roasted tomatoes, garlic and Grüner Veltliner Alte Rebe
OUR SEPTEMBER FOOD & WINE PAIRING WITH HENRIETTA ANEFALK
Recipe:
250g red cherry tomatoes 6 cloves of garlic, unpeeled,
5 tsp olive oil 6 dl chicken broth (vegetables also work)
4dl Grüner Veltliner 3 shallots 6 dl Arborio rice
1 dl loosely packed, grated fresh basil 1 dl grated Parmesan
Preparation:
Preheat oven to 180°C. Drizzle some olive oil on a baking tray. Halve the cherry tomatoes and place them on the baking sheet along with the garlic cloves. Season with salt and pepper. Roast in the preheated oven for about 30 minutes or until the tomatoes shrivel around the edges and the garlic is soft. Remove from the oven and squeeze the garlic from the skin, chop coarsely and place in a small bowl. Put aside. Bring the broth to a boil in a separate saucepan. Reduce the heat and let the broth simmer briefly. Chop onions finely. Heat olive oil in a medium-heavy saucepan over medium-high heat. Add the onion and cook until the onion is soft and light golden, almost a little translucent. Add the rice and cook, stirring, for 1 minute or until lightly coated with oil. Add a ladle of the simmering broth to the rice and stir constantly with a wooden spoon over medium heat until the liquid is completely absorbed. Alternate between wine and broth. Add about 1 cup of the liquid, stirring constantly, to allow the liquid to be absorbed before adding more. Cook until the rice is tender yet firm to the bite and the risotto is creamy. I usually start tasting after about 15 minutes, it probably takes about 20 to 25 minutes to prepare and should end up moist and creamy. Remove the risotto from the heat and add the garlic, some of the tomatoes, basil and parmesan. Season with salt and pepper if necessary. Serve immediately, risotto waits for no one😉.
Henrietta's Comment:
The possibility and luxury of using the wine for cooking as well as drinking it adds a very nice depth to a combination. The Grüner Veltliner, with its notes of dark fruits and roasted notes, harmonizes wonderfully with the sweeter roasted garlic and tomatoes. The salt and umami flavors of the Parmesan absorb the grapefruit in the wine and provide wonderful richness.